AC Asynchronous induction motors(Y,Y2,YE2,YE3,YS,YL,YC,YY,YD,YB2/YB3,MS)
Y2 series ip54/ip55 three phase electric motors are suitable for driving all
kinds of mechanical equipment without special performance requirements,
such as metal cutting machine tools, pumps, blowers, compressors,
mixers, transportation machinery, agricultural machinery, food machinery, etc.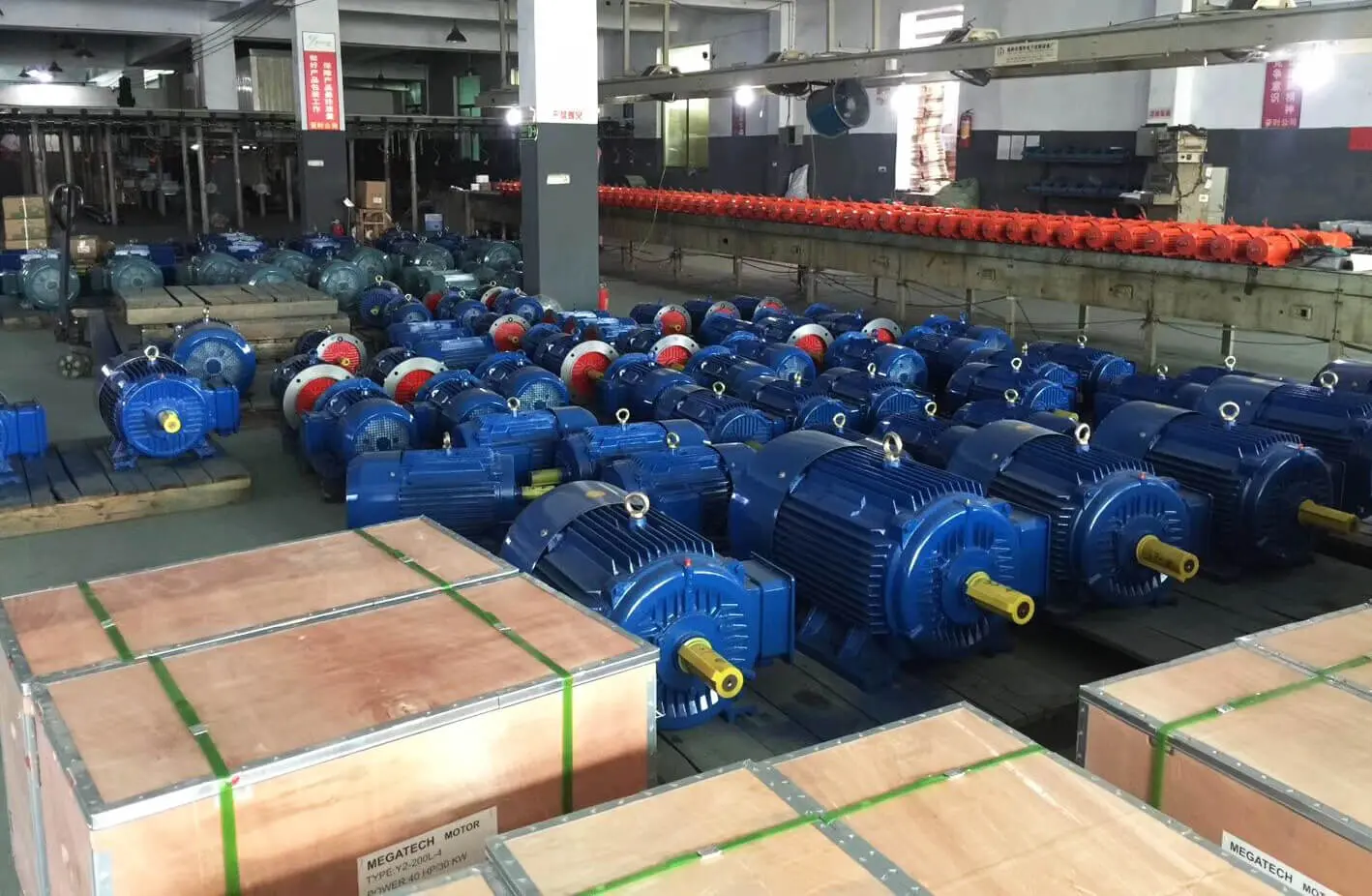 Y2 is motor three phase motor type, 400 is center height of motor,1 is stator code,the 4 is 4pole motor.
Y2 series motor is a general purpose fully enclosed self – fan-cooled squirrel – cage three-phase induction motor. The mounting size and power grade of the motor comply with IEC60034 standards, the protection class of the shell is IP54, the cooling method is IC411, and the continuous working duty (S1).
High efficiency, energy saving, high torque, low noise, small vibration, safe and reliable operation. 80-355 frame motors conform to Y2 series (IP54) three-phase asynchronous motor technical specifications JB/T10391-2002.
Rated voltage 380V, rated power 50HZ, power 3KW and only Y connection. Other power is △ connection. The altitude of the motor operation site shall not exceed 1000m; Ambient air temperature varies with the season, but does not exceed 40℃; The minimum ambient air temperature is -15℃ .
Generally, this motor drives the end shaft extension, if the customer needs, can also double shaft extension.We can also customize different voltage, frequency, protection level, insulation level and working duty according to customer requirements
In order to improve the quality of all kinds of electric motors, strengthen the pre-sale&after-sale service, let customers be assured satisfaction, we We declare as below:
1. Unqualified products will not leave our factory
2. After the completion of motor production, 48-hour test, pass the test will be qualified products
3. Motors are delivered on time or ahead of schedule. The spare parts ordered by customers will also be delivered on time
4 .We will give positive feedback within 24 hours if the customer has quality problems after using the motor. If you need door-to-door service, we can arrange door-to-door service within 48 hours.
5.According to the requirements of different customers in different regions, our motors provide a 1-3 years warranty period. We offer a supply guarantee at cost for any spare parts
Ordering information:
1.Preview our product catalog or visit our website to list detailed motor specifications, including but not limited to output power, voltage, frequency, protection class, insulation class, mounting type, working duty, noise level, rotation, etc
2.For double-voltage or multi-voltage motors, please tell us which voltage is connected before leaving the factory
3.If no special requirement or remarks, Y2 motors with rated IP54,Insulation F,B3 mount, 380V / 50Hz. Tefc.s1 duty.
4.If you have special requirements, such as double shaft extension, the position of the outlet box is reversed, the rotating shaft is reversed, and you need to make it into hot and humid belt type, or outdoor anticorrosive type, etc., it should be clearly indicated in the contract and contacted with our factory in advance.
If you are looking for more reliable motors or have a problem with your motors,
please feel free contact us for help and support now.